TRUCK AND MACHINERY TOWING MADE EASY ACROSS ADELAIDE METRO AND SOUTH AUSTRALIA
Our wide range of services makes Aldinga Towing an excellent choice for customers in need of:
accident & breakdown towing services
road recovery assistance, or
transportation of truck and heavy machinery
Transporting heavy loads is a job for professional tow truck drivers. At Aldinga Towing, our experienced team can quickly and efficiently take care of your heavy load.
Tilt Tray Truck Towing
Not only do our tow truck drivers have the right equipment to do the job, but we also have a team of professional tilt tray operators who are trained and experienced. Our tilt trays are also suitable for any load that can be carried safely.
Aldinga Towing's tilt tray trucks are fitted with the latest equipment like full-wheel strap systems, container pins, hydraulic rams for unloading loaded containers, and oversize transport equipment to ensure a safe and damage-free recovery or transportation.
Machinery Towing
We don't just tow breakdowns, we can also relocate agricultural vehicles and machinery. Aldinga Towing can move equipment and machinery safely from your property to wherever you need it to be. Experienced and insured, we guarantee absolute satisfaction on every tilt tray tow.
We can accommodate any breakdown for:
any sized vehicle,
emergency towing,
winch and bog jobs,
machinery towing,
container towing, and
transportable building towing
All our vehicles have data dispatch screens and GPS tracking, allowing us to safely monitor our drivers and trucks. We will give you realistic arrival times and keep you updated with the status of your job.
Aldinga Towing can move any heavy machinery anywhere anytime. If it's too heavy or too big for our tilt trays, we also have a range of low loaders. These larger vehicles are ideal for transporting front end loaders, excavators and other types of heavy machinery. We are fully insured. All of our tow trucks are driven by professionals with a high level of training and experience. 
Forklifts | Machinery | Elevated Work Platforms | Hire Transportable | Lifting Platforms | Containers | Drilling Machinery | Agricultural Machinery | Buses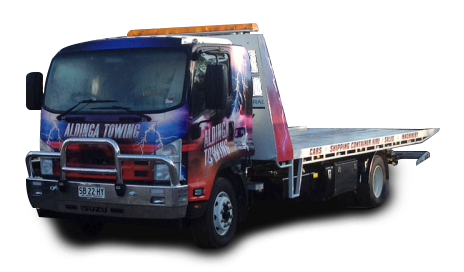 TOWING 24 Hours A Day – 7 Days A Week
SERVICE AREAS
Aldinga Towing: 0428 904 799
Fleurieu Towing: 0428 904 799
Yankalilla Towing: 0428 904 799
Port Elliot Mechanical: 0439 521 466
Victor Harbor Diesel: 0439 521 466