TOW TRUCKS FOR ANY SIZED VEHICLE
ANYWHERE IN ADELAIDE AND SOUTH AUSTRALIA
Aldinga Towing are a licensed and accredited family-owned towing company offering local and long-distance roadside services. Established in 1988 we take pride in providing a premium service with very competitive pricing and fast response times. Our friendly team will go that extra mile to give complete customer satisfaction.
Breaking down is always a hassle and it always seems to happen at the most inconvenient of times, don't fret, pull your vehicle over to the side of the road put on your hazard lights and give Aldinga Towing a call, There is never a more important time when a rapid response is needed, and that's exactly what you get from Aldinga Towing, a quick, expert vehicle towing service.
Our tow trucks are designed for safe and efficient towing of everything from cars and motorbikes to heavy vehicles and machinery even transportable buildings. We have tilt trays, car carriers, semi-trailers and deck widening low loaders, amongst other combinations of truck and trailers.
We can tow or transport your vehicle or heavy load, from and to anywhere of your choosing.
WE TOW ALL TYPES OF VEHICLES
Aldinga Towing is a female-friendly tow truck service and provides customers with a comprehensive range of towing services, including but not limited to the following:
Passenger cars
Motorbikes
Caravans
Vans
Boats
Light trucks
Heavy vehicles
Agricultural equipment
Aldinga Towing, Yankalilla Towing, Fleurieu Towing & Aldinga Heavy Towing. That's us!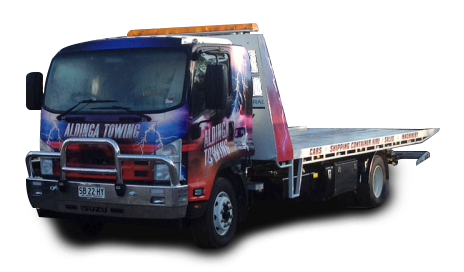 TOWING 24 Hours A Day – 7 Days A Week
SERVICE AREAS
Aldinga Towing: 0428 904 799
Fleurieu Towing: 0428 904 799
Yankalilla Towing: 0428 904 799
Port Elliot Mechanical: 0439 521 466
Victor Harbor Diesel: 0439 521 466